24.01.2020 Презентация исследования потребностей молодежи при открытии собственного бизнеса SIA 2019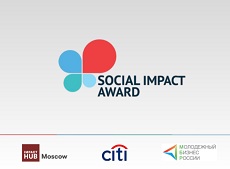 30.07.2019 Вебинар для молодых предпринимателей от Нексиа Пачоли

25 июля в рамках Nexia Day 2019 эксперты компании Нексиа Пачоли провели для участников программ Social Impact Award и Молодежный бизнес России вебинар «Аспекты налогообложения и бухгалтерского учета».
27.07.2019 Руководитель программы МБР, директор Института наставничества Борис Ткаченко 23-26 июля работал в Алматы с коллегами из Бизнес-инкубатор MOST

23 июля Борис принял участие в пресс-конференции по итогам трехмесячной Программы Акселерации, которую реализует Бизнес-инкубатор MOST в рамках проекта JastarBusiness совместно с Citi Foundation и YBI. «В этом году участниками программы пожелали стать более 100 стартапов из 9 регионов страны.
01.07.2019 Конференция Social Impact Award (SIA) в Гуслице

28-30 июня Борис Ткаченко и Ирина Горелова приняли участие во вводной конференции Social Impact Award (SIA) в Гуслице. В этом году SIA реализуется ImpactHub Moscow в партнёрстве с программой «Молодежный бизнес России».
15.06.2019 Global Youth Entrepreneurship Summit, Cartagena (Columbia), June 10-14

YBR took part at the Global Youth Entrepreneurship Summit held by Youth Business International in Cartagena (Columbia) on June 10-14. The Summit brought together over 100 participants from 75 organisations across 35 countries.
Новости 1 - 5 из 790
Начало | Пред. |
1
2
3
4
5
6
7
8
9
10
11
|
След.
|
Конец
| Все
State of Global Youth Entrepreneurship as Analyzed in the Joint Study of YBI Network and GEM
In the course of the Global Youth Entrepreneurship Summit, Youth Business International (YBI) international network and Global Entrepreneurship Monitor (GEM) research centre published the results of their joint global study titled Generation Entrepreneur? The state of global youth entrepreneurship and dedicated to the current state of youth entrepreneurship in the world.
The authors of the study expressed gratitude for assistance in the work to Manager of Youth Business Russia program Boris Tkachenko and Daniil Kruglikov, a Russian entrepreneur and a member of the YBR program. 
The study relies on the data collected by polling over 198,000 persons globally as well as special per state samplings (approximately 2,000 respondents per state).
The key conclusions of the study represent the data on the youth's attitude to different issues related to creation of a proprietary business, including such factors as: a young person's essential willingness to create his or her own business, attitude to young businessmen in the country where the respondent resides, opportunities for a new enterprise to create new jobs, innovative production focus, and online trading. Separate conclusions were drawn on the issues of funding accessibility for young entrepreneurs, creation of a novel enterprises customer pool, and business formation role models.
Following the study results, recommendations on supporting and developing the youth entrepreneurship have been worked out for such participants of the world system as national governments, mass media, business schools, and investors.
Among the key areas of improvement named are public attitude to entrepreneurship, education, funding accessibility, mentorship, and opportunities of the Internet.
The study is available at our web site.