24.01.2020 Презентация исследования потребностей молодежи при открытии собственного бизнеса SIA 2019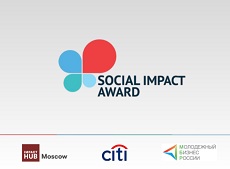 30.07.2019 Вебинар для молодых предпринимателей от Нексиа Пачоли

25 июля в рамках Nexia Day 2019 эксперты компании Нексиа Пачоли провели для участников программ Social Impact Award и Молодежный бизнес России вебинар «Аспекты налогообложения и бухгалтерского учета».
27.07.2019 Руководитель программы МБР, директор Института наставничества Борис Ткаченко 23-26 июля работал в Алматы с коллегами из Бизнес-инкубатор MOST

23 июля Борис принял участие в пресс-конференции по итогам трехмесячной Программы Акселерации, которую реализует Бизнес-инкубатор MOST в рамках проекта JastarBusiness совместно с Citi Foundation и YBI. «В этом году участниками программы пожелали стать более 100 стартапов из 9 регионов страны.
01.07.2019 Конференция Social Impact Award (SIA) в Гуслице

28-30 июня Борис Ткаченко и Ирина Горелова приняли участие во вводной конференции Social Impact Award (SIA) в Гуслице. В этом году SIA реализуется ImpactHub Moscow в партнёрстве с программой «Молодежный бизнес России».
15.06.2019 Global Youth Entrepreneurship Summit, Cartagena (Columbia), June 10-14

YBR took part at the Global Youth Entrepreneurship Summit held by Youth Business International in Cartagena (Columbia) on June 10-14. The Summit brought together over 100 participants from 75 organisations across 35 countries.
Новости 1 - 5 из 790
Начало | Пред. |
1
2
3
4
5
6
7
8
9
10
11
|
След.
|
Конец
| Все
Open dialog: Voronezh Region – Scotland
On 23 May 2012, on the eve of The Day of Entrepreneurship in Russia, the regular meeting of the Club members of the programme Youth Business Russia (YBR) of Voronezh region took place in Voronezh. Entrepreneurs, their mentors, members of Selection Panel and programme managers met together, as is tradition, in the conference hall of Resource Centre, one of the most active YBR members in the region. Any meeting of YBR Club is different but this meeting has been unique!
Following brief discussion of "internal" achievements and plans, YBR members had 2‑hour online session with the participants of youth entrepreneurship programme of Scotland.
Both parties asked questions about the kinds of businesses that young businessmen start, what are the challenges in the countries, who can help and how? The opportunities to establish business links between Russian and Scottish businesses were given particular interest. As such, it became clear during the discussion that the entrepreneurs with similar businesses, e.g. in dress styling and beer farming on both sides can cooperate.
As a result of this meeting, the participants realized that such experience exchange between the members of the youth entrepreneurship programmes supported by YBI in about 40 countries worldwide shall be further developed and such dialogs shall as well become regular between the Russian regions involved in YBR.
By old Russian tradition, YBR members could not part with their "guests" without giving them a present (so far, virtually, and YBR Programme Manager will do it physically on his next visit to London) which was a figurine of Loch Ness monster, carved in wood by young entrepreneur from Voronezh which was a pleasant surprise for the Scots.