24.01.2020 Презентация исследования потребностей молодежи при открытии собственного бизнеса SIA 2019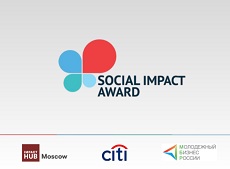 30.07.2019 Вебинар для молодых предпринимателей от Нексиа Пачоли

25 июля в рамках Nexia Day 2019 эксперты компании Нексиа Пачоли провели для участников программ Social Impact Award и Молодежный бизнес России вебинар «Аспекты налогообложения и бухгалтерского учета».
27.07.2019 Руководитель программы МБР, директор Института наставничества Борис Ткаченко 23-26 июля работал в Алматы с коллегами из Бизнес-инкубатор MOST

23 июля Борис принял участие в пресс-конференции по итогам трехмесячной Программы Акселерации, которую реализует Бизнес-инкубатор MOST в рамках проекта JastarBusiness совместно с Citi Foundation и YBI. «В этом году участниками программы пожелали стать более 100 стартапов из 9 регионов страны.
01.07.2019 Конференция Social Impact Award (SIA) в Гуслице

28-30 июня Борис Ткаченко и Ирина Горелова приняли участие во вводной конференции Social Impact Award (SIA) в Гуслице. В этом году SIA реализуется ImpactHub Moscow в партнёрстве с программой «Молодежный бизнес России».
15.06.2019 Global Youth Entrepreneurship Summit, Cartagena (Columbia), June 10-14

YBR took part at the Global Youth Entrepreneurship Summit held by Youth Business International in Cartagena (Columbia) on June 10-14. The Summit brought together over 100 participants from 75 organisations across 35 countries.
Новости 1 - 5 из 790
Начало | Пред. |
1
2
3
4
5
6
7
8
9
10
11
|
След.
|
Конец
| Все
A visit of Richard Alderman, Director of the UK's Serious Fraud Office
From 14th to 16th March, IBLF organised the visit to Moscow of Richard Alderman, Director of the UK's Serious Fraud Office. The purpose of the visit was for him to introduce the Moscow business community to the UK Bribery Act and to familiarise himself with efforts being taken by the government and the business community in Russia to combat corruption.
Mr. Alderman's stay in Moscow began with a Breakfast Briefing organised by IBLF, PwC and White & Case, and attended by about 70 chief legal counsels, compliance officers, internal auditors and finance directors. The topic was the impact of the new UK Bribery Act on Russian companies. The Serious Fraud Office is responsible for the new law's introduction and implementation.
Later the same day, he was the guest of honour, along with the US Assistant Attorney General Lanny Breuer and the Deputy Minister of Justice of the Russian Federation, Yurii Lyubimov, at a dinner hosted by Dame Anne Pringle, the British Ambassador at her Residence. The dinner, which was organised by IBLF and supported by Baker & McKenzie, KPMG and Siemens, was attended by 40 leaders from leading Russian and international companies. The topic of the panel discussion preceding the dinner was "Setting the Tone from the Top – how business leaders can create a culture intolerant to corruption".
During his visit to Moscow, Richard Alderman gave a public lecture at the Higher Economic School which was attended by law-makers, legal academics, external legal counsels, attended a dinner in his honour for internal legal counsels and compliance officers of major companies organised by Control Risks, and had official with General Prosecutor's Office and the Ministry of Economic Affairs. He also spent a day in St. Petersburg to meet with companies, at the invitation of the British Consul General.
Richard Alderman's visit attracted interest in the press. See below for a sample of the articles which appeared: